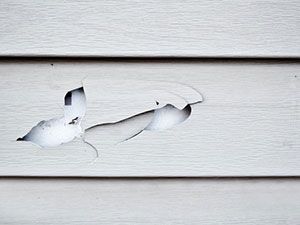 Hailstorms are frequent occurrences in Indiana, especially during warmer months. With summer quickly approaching, you need to take steps to protect your roof. No matter how strong it is, a severe hailstorm will most likely damage your roof. Hail can affect your roof in a variety of different ways. However, if your building is in Avilla, IN, you can rely on the professional craftsmen at Smith Residential & Commercial Roofing for top-class repairs, coatings, and replacements. Our qualified team has been caring for our customers in the region for many years. We have the skills and experience necessary to repair your hail damaged roof. Call us today at 260-799-9999, and let us serve you!
Detailed Roof Inspection
Hail can lead to various forms of damage, including broken shingles, dented shingles, damaged gutters, and more. There can also be other types of damage that are harder to see.
In order to detect any damage that your roof may have sustained, our technicians always begin their services with a thorough inspection. This will allow us to determine the exact scale and location of the problem. When we have completed the inspection, we will use our vast knowledge of the industry to recommend the best solutions for you, taking into account your needs and budget. We will include everything in an estimate, giving you the information you need to make a wise decision.
Durable Solutions
Our specialists know exactly what your roof needs to return to optimal condition and continue protecting you and your building. We provide the exact repairs you need and use only the highest-quality roofing materials. We want to provide all of our customers with solutions that will last for many years to come! Come see for yourself why so many in the state choose us.
Contact Us Today
If you don't address damage to your roof in a timely manner, you could face much larger problems in the future. After a hailstorm, you need to contact a professional contractor. If your building is in Avilla, IN, contact the expert team at Smith Residential & Commercial Roofing. Call us today at 260-799-9999 to get started! We look forward to working with you.