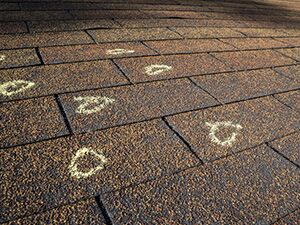 If you are a building owner in Warsaw, IN, then you understand the wide range of weather conditions that can affect our area. For example, hailstorms can be possible during the summer months. When a hailstorm passes through your area, your roof may sustain damage. Thankfully, the team at Smith Residential & Commercial Roofing is committed to helping building owners repair their hail damaged roof. We offer professional guidance to identify hail damage and find the most appropriate repair solutions. Call us today at 260-799-9999 to get started!
Hail Damage
After a hailstorm, your roof may sustain significant damage. Strong rain and hail can create a pattern of dents or bruises on shingles, lead to a loss of granules, and cause noticeable splits or cracks. Recognizing hail damage is not an easy task. This is precisely where the expertise of our professional roofing contractors comes into play.
Performing the repairs yourself may be tempting, but you may overlook critical damage and threaten your safety. A professional inspection ensures a thorough evaluation, identifying damage that may not be noticeable to the untrained eye. A team of experienced roofing contractors can offer you peace of mind by providing a comprehensive assessment of your roof's condition.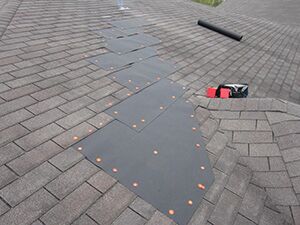 Once the damage is identified, the subsequent step is choosing the best repair approach. Again, this is a job best left to the professionals. The extent and location of the damage play a pivotal role in determining whether some small repairs would suffice, or if a more comprehensive solution, such as a full roof replacement, is needed. Making these decisions without professional advice can lead to poor judgment and future damage.
Hail damage is often covered by insurance, adding another layer of complexity to the process. Navigating the insurance claims process can be challenging, but not when you have professional help. Our crew can guide you through the process, providing a detailed repair or replacement estimate to ensure your insurance company approves your claim.
The aftermath of a hailstorm can be stressful, and understanding the intricate nature of hail damage is tough. However, with the right professional help, the repair process can be much smoother. You can trust our team to provide comprehensive hail damage repair services, from accurate identification to efficient solutions.
Contact Us
If you're a building owner in Warsaw, IN, you should contact the team at Smith Residential & Commercial Roofing to inspect your roof after a hailstorm. Professional services ensure the best care possible for your roof. Let us help you restore the safety and comfort of your building! Call us today at 260-799-9999 for more details.